I majored in art, but I never took a drawing class. My chosen specialization was in a field called social practice. It's art that involves the community, activism, and action. In actuality, it's an excuse to have fun and throw a party.  
Disco is Dead! was an exploration of funerary practices and the culture of death via roller disco. Participants were invited to skate, make confetti offerings to loved ones, and enjoy funeral themed snacks. Grim reapers skated with the participants as disco music and bubbles flooded the rink. Participants were able to take a break on benches made out of cremation caskets. The event introduced a taboo subject through normalized and economized play.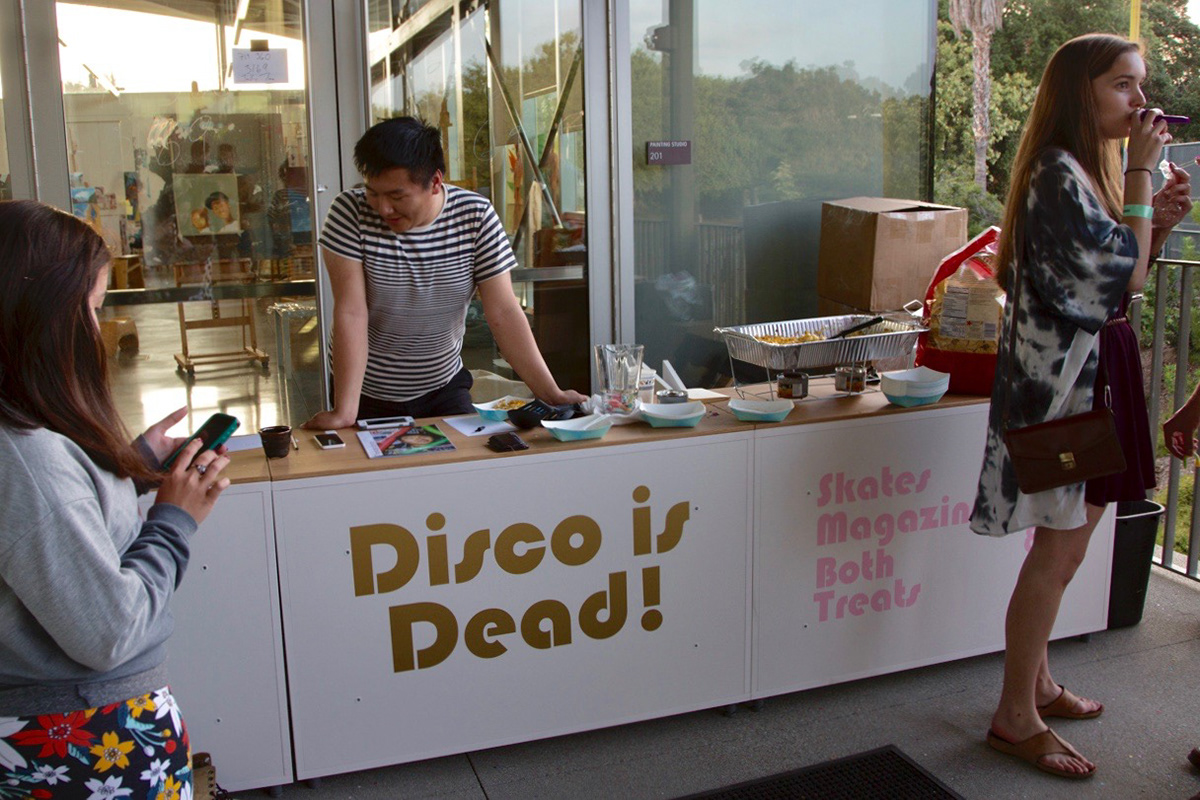 The artist's bedroom and dorm were converted into an on-campus spa getaway. Participants made a free appointment through a website. Each appointment lasted one hour and included a bastardized kundalini yoga session on the dorm's lawn, a meteorologically dependent sauna sessions in the artist's bedroom, cold plunge in the bathroom, and green tea ceremony held in a study room. Robes and towels were provided. The project played with expectation, relaxation, and blatant mimicry.
Students were randomly invited to 'a pop-up dining experience' located in Frary, Pomona College's dining hall. Working with the dining hall staff, the artist set up kitchen next to the guests' dinner table. Food was replated on IKEA dinnerware to appear more expensive. Besides minimal processing (such as cutting and blending), no additional work was done to the food. The pop-up worked with the ideas of façade, food-culture, and monetization.
Participants were randomly assigned to teams of four and competed in a series of plastic casket drag races. Over the course the event, the caskets began to deteriorate replicating processes within burial itself. The finish line was marked by a black ribbon and the winners were given golden dinosaur skeleton trophies. The race course was an overt metaphor for life and the event worked with ideas of strangers, competition, play, and decay
.
As Machine Project's Curatorial Intern
I was Getty Intern at Machine Project for a summer. 
Machine was an experimental art space that also focused on social practice. RIP!
Here are two events I conceptualized and produced.